Welcome to the World of HARRYOKE! Entertainment
It is a business doing pleasure with you!
COME OUT AND GET YOUR SING ON!
Thank you for visiting my site! HARRYOKE! Entertainment has been providing Central Florida with quality karaoke and disc jockey service since May of 1999, with nearly 4000 performances done personally. I have scheduled public shows several nights a week, and am available to perform at your private function; from an informal get together to a traditional formal wedding reception. I can help you plan your wedding reception, supply music for any occasion, or bring the karaoke show to your event to ensure a good time for all!

At this site, you can learn more about me and my company, and the services I provide.

Use the links provided to navigate your way around, to view my schedule and get info on the venues or to peruse my karaoke songlists and choose your songs before you get to the show!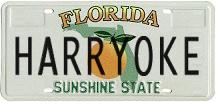 BREAKING NEWS FOR HARRYOKE!
May 15....it was on this day back in 1999 that I did my first show, for free, while learning how to use the gear I had just bought. All 4 of those hours of training prepared me for my first paying gig on the 17th, LOL. Today, almost 4000 shows later, I kick off my 15th year serving the area as Harryoke. Looking to hit show 4k around June 14!! Could not have done it without those of you who have befriended me, and supported me thru the highs and lows of the past years!! THANK YOU!!!
***
EFFECTIVE 5.16.13 Karaoke at Finns on THURSDAYS will start at 8pm!!! Ladies night as usual 9-12, World Famous Dance Set as usual 1145ish to 1230ish. Just an extra hour at the top for the earlybirds to sing more...or for me to play tunes.
***
EFFECTIVE FEB 20, I will not be at Finn's on WEDNESDAYS.
***
I HAVE ADDED over 12000 songs that I just purchased from Chartbusters before they closed! To see a list of tunes, click the KARAOKE SONG LIST link. They are not yet in the books.
Thanks...check back for updates!